Dental Malpractice Lawyer
Get a free dental malpractice case review... Call (502) 582-3711
No Dental Care Should Result in Injury to the Patient
If you have been injured as a result of dental malpractice, you may be entitled to compensation for your medical bills, lost wages, pain and suffering, and other damages. A dental malpractice lawyer can help you understand your rights and options and fight for the maximum recovery possible. While  I have practiced many dental negligence cases in the past four decades, I now associate with Olivia Palmer, DMD, JD, on all dental negligence cases.
Dental malpractice occurs when a dentist fails to provide the standard of care that a reasonable dentist would have provided in the same situation. This can include errors in diagnosis, treatment, or follow-up care. Dental injuries, whether from inadequate Doctor or staff training, or negligent care, can result in loss of teeth, loss of bone of the jaws, permanent nerve damage, infection, hospitalization, brain damage and death.
Some common types of dental malpractice:
Anesthesia injuries
Unnecessary tooth loss
Improperly performed root canals
Improperly placed dental implants
Aspiration or ingestion of dental burs, teeth
Failure to recognize/treat infections
Surgical errors
Failing to evaluate the patient's medical condition
Failing to treatment plan
Failing to diagnose oral cancer
Anesthesia injuries may be caused by:
Failing to review medical history
Failing to obtain medical clearance
Failing to have/use proper monitoring
Administering wrong dosages or types of medications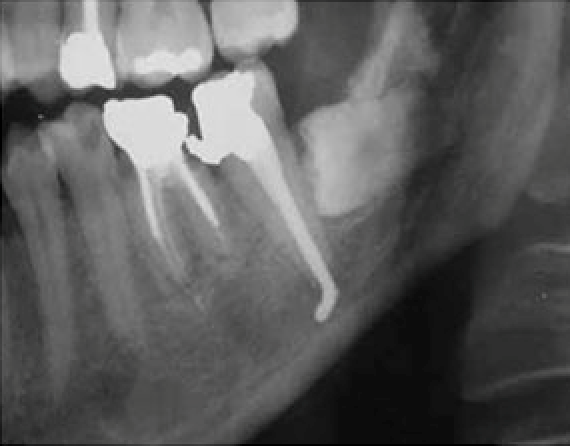 Unnecessary tooth loss may occur when patients request a "new smile" and the practitioner recommends full mouth extractions without suggesting repairing existing teeth. Dentures or bridgework fixed to dental implants are never a substitute for the patient's natural teeth. Many times the teeth could have saved which also maintains the patients bone structure of the face.
Improperly performed root canals can lead to tooth loss or nerve damage. Root canal sealer that extends beyond the apex of the tooth can cause severe and permanent nerve injury. The filling material should be restricted to the root canal and not extend into the periradicular tissues, as shown.
Additionally, root canals files should not extend past the apex of the tooth. Over-instrumentation of the root canal system may lead to nerve injuries, bone loss, or tooth loss. Forceful irrigation of root canal cleaning solutions may also result in injury and permanent nerve damage.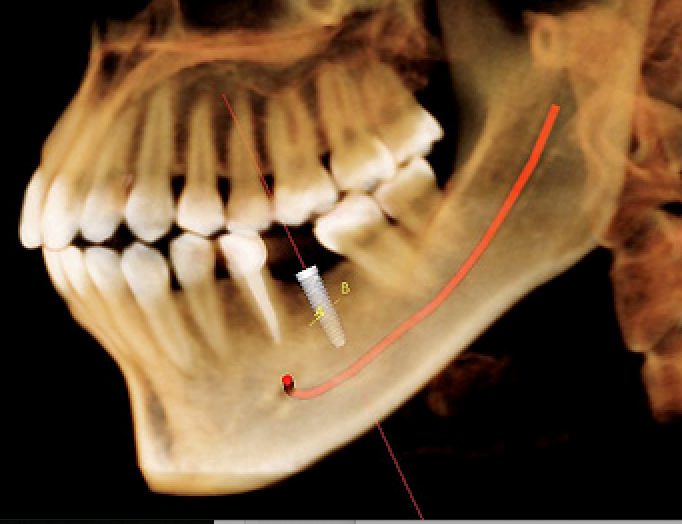 Proper placement of dental implant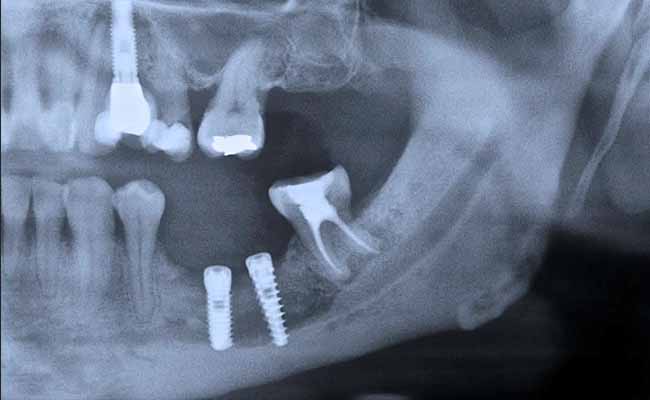 Dental implant impinging on the inferior alveolar nerve
Dental implants are the most successful restorative procedure in dentistry, when performed by a qualified dentist/surgeon trained in implant dentistry. 
Unfortunately, many dentists who are not trained are performing these procedures, with resulting injuries to patients. These injuries can be mild, in the form of implant failure, to severe, in the form of infections leading to hospitalization and severe bone loss. Dental implants improperly placed can cause permanent nerve injuries or irreplaceable bone loss of the jaws. The standard of care requires three-dimensional imaging and evaluation of the patient prior to implant placement in areas of vital anatomy, such as the inferior alveolar nerve and the maxillary sinuses.
Aspiration or ingestion of dental burs/teeth is a preventable injury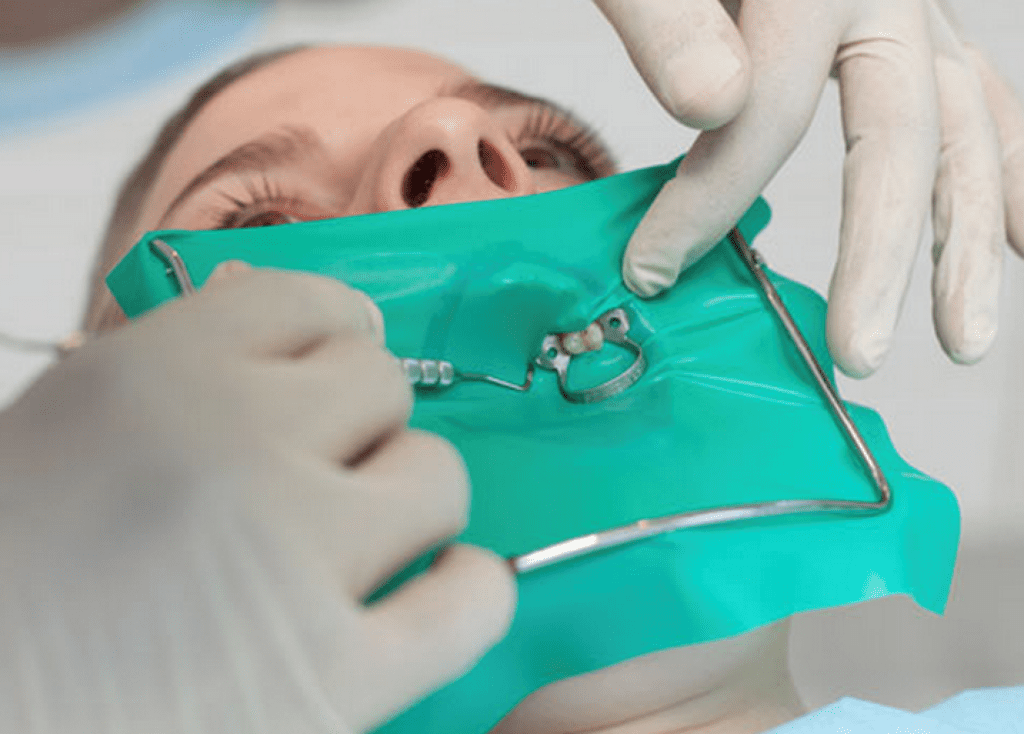 Aspiration or ingestion of dental burs/teeth is a preventable injury. Proper positioning of the patient, use of rubber dams, throat screens and proper suctioning by a trained dental assistant can prevent these injuries, which can be life threatening.
Failure to recognize or treat infections is a serious, potentially life-threatening problem in dental malpractice. Surgical procedures performed on medically compromised patients by dentists with little to no surgical training can lead to catastrophic injury.
Surgical errors may occur when equipment is not properly maintained, or the dentist or surgeon has not evaluated the patient's radiographs or CT scans. Implants may be placed too close to the inferior alveolar nerve, dental burs may break and be left in extraction sockets, or the maxillary sinus may be exposed during traumatic tooth extraction.
Failing to evaluate the patient's medical condition prior to treatment is a breach of the standard of care that can result in serious injury. Patients with diabetes, hypertension, cancer and other issues must be thoroughly evaluated before dental care.
Failing to treatment plan the patient can lead to unnecessary and expensive procedures that may fail or need to be redone. There is no substitute for proper, thorough treatment planning in dentistry. This includes a complete set of intraoral x-rays, periodontal charting, and comprehensive exam by the doctor.
The American Cancer Society estimate for 2023 are 54,540 new cases of oral cancer with 11,580 deaths from oral cancer. Early diagnosis and treatment leads to better prognosis and outcome for the patient. Failing to diagnose oral cancer often leads to the patient's death. All dentists are trained that any suspicious lesion that has been present for more that two weeks must be biopsied to rule out oral cancer.
If You Believe You May Have Been Hurt or Seriously Injured by a Dentist Call Attorney Bixler W. Howland at 502-582-3711 now to discuss your case ... or complete the form below to request a Free case evaluation