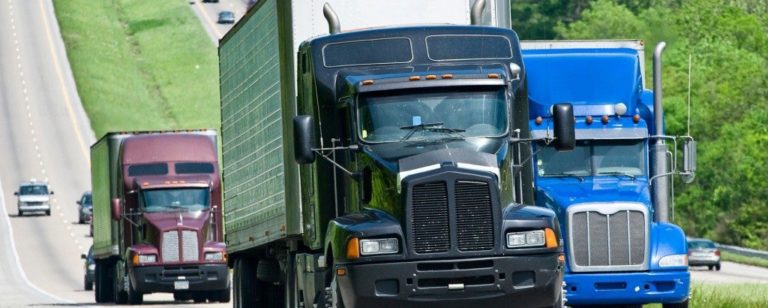 get a free case review Call (502) 582-3711
Commercial truck driving accidents involving semi-trucks and 18 wheelers are often very different from vehicle accidents involving cars, lightweight trucks, SUVs, minivans, and much smaller vehicles.
Semi-truck accidents tend to be much more severe because of the size and weight of the trucks involved. When an 18 wheeler crashes into a car, the car and its passengers and driver stand little chance against the truck. As a result, drivers and passengers of vehicles hit by large commercial trucks have a higher rate of death and serious injury than those involved in crashes with similarly-sized vehicles.
Understanding the Federal Regulations Governing Interstate Truck Drivers and Trucking Companies
The Federal Motor Safety Carrier Administration (https://www.fmcsa.dot.gov/) is responsible for adopting rules and regulations that govern interstate trucking. These rules and regulations apply to both truck drivers and trucking companies. The FMSCA regulations in large part are intended to promote safety, such as the following regulations:
Hours of Service Regulations. The hours of service regulations are comprehensive regulations governing the amount of sleep and rest that truck drivers must have. In order to ensure compliance with these regulations, drivers must maintain logbooks, or electronic records, to document the dates, times driven, and other information.
Prohibition on the Use of Alcohol or "Pep Pills". Truck drivers may not drink alcoholic beverages within four hours prior to driving, and they may also not use "pep pills" or similar stimulants/drugs (even though such drugs otherwise may be legal).
Vehicle Inspections. Truck drivers must inspect their vehicles carefully prior to driving, and at certain other prescribed points, and must document such inspections.
Training and Safety. Truck companies must train and ensure their drivers are familiar with the rules of the road, including federal trucking regulations, and must not promote or ignore safety violations.
The foregoing are only a sample of key FMSCA regulations, all of which do not apply to non-interstate commercial driving.
Were the Truck Drivers and Trucking Companies in Compliance with FMSCA Regulations?
In a truck crash, it is important to obtain all inspection, safety, and driver records relating to the accident as soon as possible after an accident. We want to know if the truck driver or trucking company violated any applicable regulations, as this can show a course of conduct to engage in intentionally reckless driving. In some cases, truck drivers violate Hours of Service regulations and forge log book information concerning their driving so that they can earn more money by driving more hours than are allowed.
Commercial Truck Driver Insurance
Interstate commercial truck drivers and companies must maintain general liability insurance of at least $750,000 on every vehicle weighing over 10,001 pounds (in some cases, such insurance requirements may be as high as $5 million, depending upon the type of cargo being hauled).[1] This amount is significantly above the amount required by most states for automobiles which tends to be around $25,000.
The benefit of this insurance coverage is that those severely injured in commercial truck accidents, and the families of those who lost a loved one due to a commercial truck accident, may have a significant financial source from which appropriate compensation may be obtained.
If You Have Been Injured in or by a Commercial Trucking Vehicle, Call Bixler Howland: 502-582-3711
Or complete the form below to request a Free case review >